Blog
Posted: 7th September 2017
Cottages with hot tubs make brilliant holidays for so many reasons.
Luxury
Hot tub holidays are really luxurious and so are perfect for romantic holidays, special occasions or even just treating yourself to a lovely holiday!

There's nothing better than relaxing in your own private hot tub so all the cottages on this website come with a hot tub for your own personal use.
Flexibility
You can treat your cottage with hot tub as you would your own home and come and go as you please. Enjoy your holiday - your way! Go out and explore? Stay in and relax? It's up to you!
Convenience
The convenience of packing a car and driving to a gorgeous cottage for a relaxing holiday can seem a great alternative when compared with the hassle of flights abroad. You can book last minute and travel the next day! Sharing a car journey also greatly cuts down on travel costs as you're not paying per person as you would be for flights.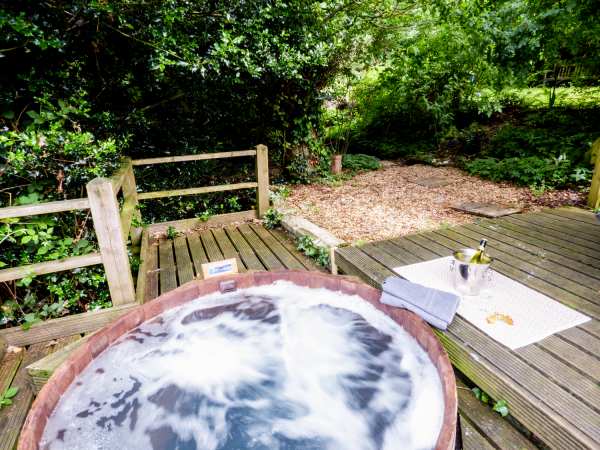 You can save even more money to spend on an amazing cottage or for fun adventures when you get there!
Cost
Cottages are priced by cottage and not per person so the price you see is the price you pay regardless of the number of people staying in that accommodation.
Pet Friendly
Some cottages with hot tubs are pet friendly so your pet can enjoy a holiday with you too!
Size
When it's difficult to find lodges or even hotels to suit the size of your party then a cottage with a hot tub could be a fantastic option. Cottages with hot tubs on our website sleep up to 24 so you can invite your friends and family to enjoy a special celebration with you, or simply enjoy quality time together.
Posted: 23rd June 2017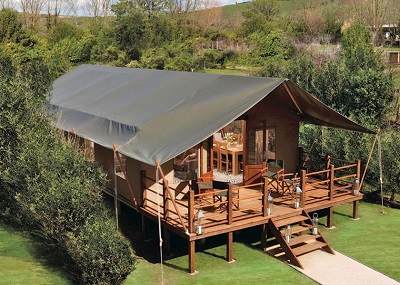 Hot tub holidays have become a well loved choice for holidays in the UK due to their relaxing and luxurious nature.

But what if you are looking for something that little bit different? A unique holiday experience?
We've scoured the hot tub holidays on the market and put together details of some amazing different holiday options. All with hot tubs of course!
Waterside Safari Tents in Dorset
These stunning safari tents are really special and will appeal to couples and families, and especially kids! They're designed in a lodge style so you really get the best of both worlds. The Exclusive Safari Tents come with private outdoor hot tubs and have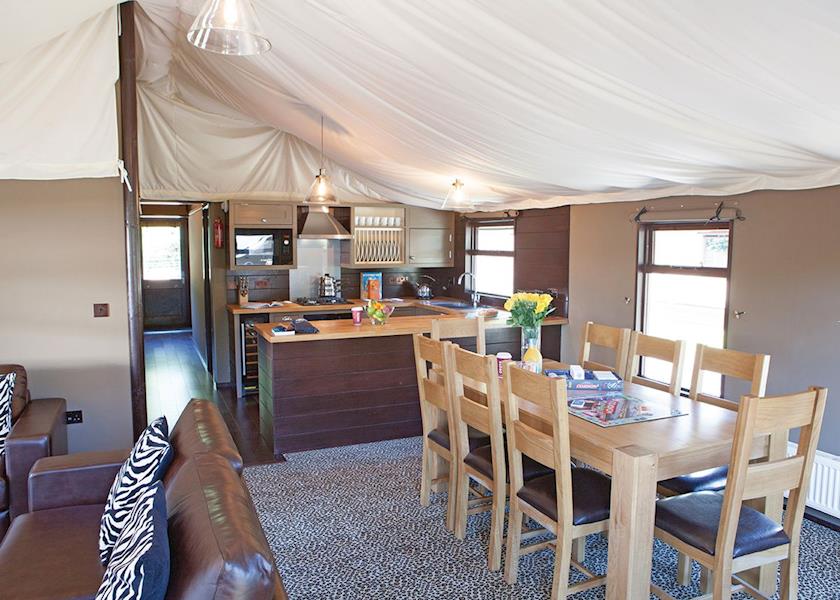 additional TVs in the bedrooms.

You can choose from tents sleeping 6 and 8.

One of the tents even comes with a playstation 4, all the mod cons! The lovely verandahs are the perfect place to relax and take in the views and of course garden furniture and a barbecue comes as standard.
Read More...


Beech Platinum Stars Lodge at Landal Kielder Waterside
We thought we'd seen everything when it comes to lodges with hot tubs but this was a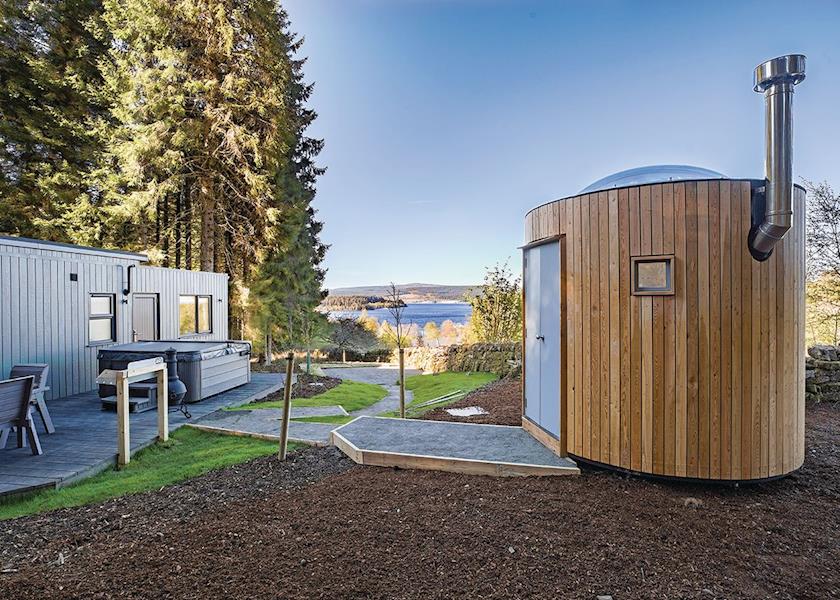 new one on us! This amazing lodge actually comes with it's own Star Gazing Pod to check out the stars in some of the darkest skies in England.

The lodge itself is top of the range too with luxury bathroom, complimentary luxury toileteries, bluetooth sound system, playstation4 and more. When booking this lodge

you also get the benefit of early check in at 2pm and a late 12:00 check out. Read more...
Willow Platinum Swim at Landal Kielder Waterside
This is another brilliantly different option at Landal Kielder Waterside. If a hot tub is not enough then this lodge has it's own swim spa pool. The lodge is brand new for 2017 and has a high spec interior with use of fluffly bathrobes and slippers and a playstation 4 among other luxuries.
The fabulous kitchen will give you kitchen envy with superb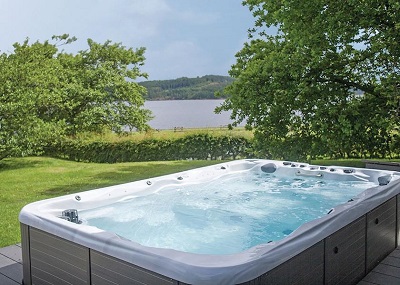 finishes and many mod cons. This lodge sleeps 6 and has 3 bedrooms.

Early check in and late check out is also standard with this luxurious holiday lodge. Read more...
All of these lodges have special features rarely seen on a hot tub holiday and will help to create magical holiday memories for special occasions and family holidays.
Posted: 5th May 2017
Sometimes a view can make or break a holiday. We've chosen the lodges with hot tubs and the most gorgeous views we could find.

These lodges not only have views to die for but the inside of the lodges are pretty special too. Ideal for romantic breaks and special occasions.
Landal Kielder Waterside in Northumberland
These spectacular lodges with hot tubs certainly make the grade when it comes to our selection of the best lodges with tubs with magnificent views.

Located in the Lake District in Cumbria it's hard not to have great views! The gorgeous shoreline of the lake sets the backdrop for lodge holidays here. In fact it's the largest man made lake in northern Europe. The surroundings are perfect for anyone who loves outdoor activities with running, cycling and walking on the doorstep. There's also the opportunity to try some snorkelling and fishing too!
The lodges at Kielder Waterside are stunning. We love the Otterstone Superior which sleeps 4. The lodge offers stylish living space in an open plan design and even comes with a playstation console! The Hareshaw Superior lodge is another brilliant choice which offers views over the reservoir from the hot tub - bliss!
Nunland Hillside Lodges in Southwest Scotland
Another strong contender for the lodges with hot tubs with the best views. Surrounded by the beauty of the Scottish Mountains, these lodges offer relaxing holidays in lovely woodland surroundings.
The views are obviously one of the highlights here, from the lodge you can see the forests and foothills of Dumfries and Galloway. You can choose from hilltop lodges which offer panoramic views of the Scottish countryside. Or opt for a delightful valley lodge with traditional exteriors yet modern interiors.
To make you stay extra special here you can order a "luxury snuggle pack" with flowers, chocolates, bath robes, Champagne and more...
This holiday location would suit both families and couples. There are lots of restaurants and pubs close by and Dumfries itself is less than five miles from the lodges.
Our favourite lodge here is the Criffel Hilltop VIP lodge which offers lots of space and luxury with roll top bath, 50 inch TV, amazing hilltop views and of course a beautiful outdoor hot tub.
WOW! is all we have to say about the views in this resort. It's easy to see why Gwel an Mor have won multiple awards. Overlooking the charming fishing village of Portreath, the sandy beach will really appeal to families.
Some highlights include the indoor pool, gym, croquet lawn and wellbeing spa. You can try out lots of activities from rock pooling and swimming to wildlife walks and fishing.
For fabulous sea views we recommend the Tregea VIP Lodge which is a spacious luxury lodge with balcony. This is a real Scandinavian log lodge with amazing views of the sea. Also comes with a private two person hot tub.
Recent customer reviews have praised the stunning lodges, lovely hot tubs and top quality restaurant food. We love this recent review...
"Most of the lodges faced south so the large deck with outdoor furniture and the hot tub had the sun most of the day. Very well looked after animals on site and a lovely walk through a bluebell wood to the small town of Portreath. I would definitely go there again for the lodge itself but also access to the coast, the mining heritage and the pretty scenery".
Lodges with Hot Tubs with AMAZING Views >>
Posted: 9th April 2016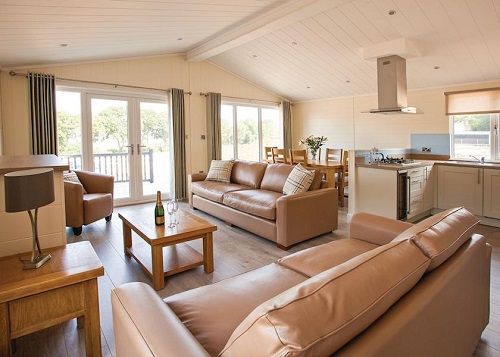 We have just added the stunning Hawkchurch Resort and Spa to our website.

The lodges are stylish and inviting, and with the Spa right on the doorstep you should leave this place feeling more relaxed than ever!
The Bistro style restaurant provides a lovely option for dining without leaving the site. Of course you might prefer to get out and explore the surrounding areas of natural beauty.
This stunning resort is on the border of both Devon and Dorset so you have a choice of fantastic areas to explore including charming villages and golden beaches.
The Premier Style lodges all come with private outdoor hot tubs.
Hawkchurch Resort and Spa Availability >>
Posted: 6th April 2016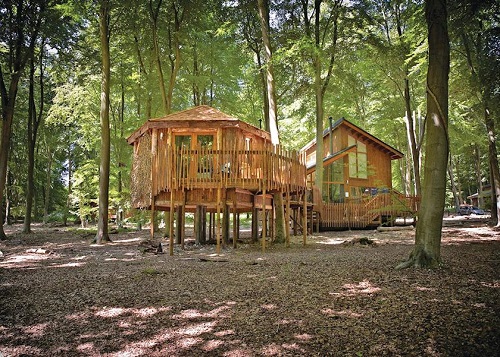 For a lodge break with a difference, you could consider the Golden Oak Treehouse at Thorpe Forest Lodges just an hour's drive from the stunning Norfolk Broads.

The lodge sleeps up to 10 and the special feature is the treehouse with double bedroom and ensuite. This is accessed from the main lodge by a bridge. Kids and adults of all ages will love the WOW factor and the bridge element of this lodge.
Check Availability at Thorpe Forest Lodges >>
Posted: 25th March 2016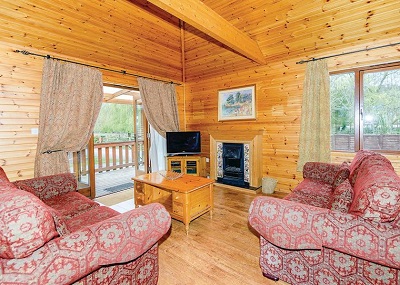 We love this secluded park, set in an Area of Outstanding Natural Beauty and comprises a group of luxurious lodges surrounded by scenic walking trails and natural beauty spots.

It's the perfect spot for a relaxing holiday, and with trains running regularly from the market town of Farnham, you can enjoy day trips to London and the historic city of Guildford.

If you enjoy spending time outdoors spotting wildlife, Tilford Woods Lodge Retreat is for you. It has its own family of ducks that are always ready to be fed and there's even an insect hotel. You can order a pamper pack on arrival and sample locally produced wine, flowers and chocolates - and if you want a relaxing evening on the verandah, simply hire a barbie and stay in.

The Falkner Watersedge Lodge is a luxury lodge with a king size four poster bed. It also has a spa bath with an overhead shower and sauna! It's in a wonderful location, overlooking the secluded pond, and with a good sized wooden decked verandah complete with outdoor table and chairs, it's the perfect spot for enjoying a break in the countryside.

The Devil's Punchbowl is Europe's largest spring-eroded valley and a great local attraction. A day trip to Farnham will keep you busy - there's castles, abbey ruins and museums to visit, not to mention shops, restaurants and pubs. Thorpe Park is only 40 minutes away and Birdworld, one of England's largest bird parks with more than 150 different species, is also easy to get to for a fun day out.
Tilford Woods Lodge Retreat Availability >>
Posted: 16th November 2015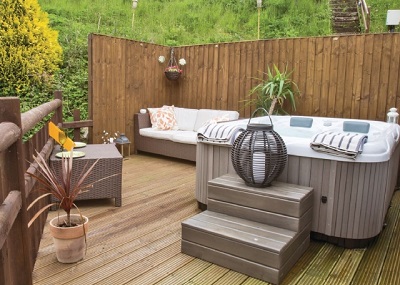 We love this offer - Herons Lake Retreat are offering complimentary wine and chocolates on arrival and a complimentary voucher for a local tea shop for holiday's taken in November and December 2015
A voucher is also included for holiday's taken in January 2016.
These charming lodges are perfect for getaways at any time of year, with cosy and luxurious interiors and inviting outdoor hot tubs.
The local area has much to offer as well from golf and fishing to walks and sailing. If you prefer a more laid back pace on holiday then local towns and quaint villages are awaiting to be explored.
So why not check out the latest availability and take advantage of this great offer?
Herons Lake Retreat - Availability & Prices >>
Posted: 9th June 2015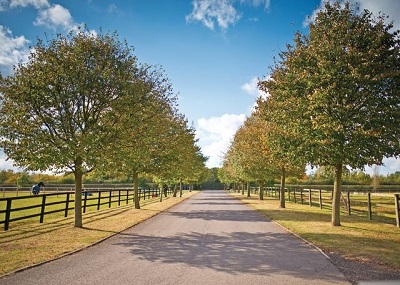 Rosewood Stud Park is a fantastic holiday park in the Cambridgeshire area - BRAND NEW for 2015. We love the uniqueness of the location - on a working Stud farm - and within 72 acres of lush green countryside.

Both idyllic and rural this park would really suit anyone looking for a relaxing getaway.
There is a cafe on the park which opens regularly at weekends and you'll be just an enjoyable stroll away from the pub for a refreshing drink. The local area is perfect for exploring with local towns like Newmarket and Bury St Edmunds within easy reach by car.
The lodges and holiday homes have been designed with style and luxury in mind, sleeping 6 or 8. Many of the lodges also come with lovely waterside views. The private outdoor hot tubs are the icing on the cake and the ideal way to round off any day.
Rosewood Stud Park - Check Availability and Prices >>
Posted: 5th August 2013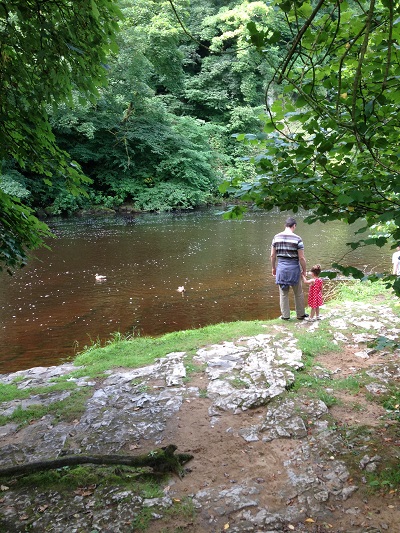 We have just returned from a fantastic lodge holiday at Westholme Lodges.

The Westholme Estate manages to combine peaceful, tranquil surroundings with luxury lodge accommodation.

Highlights of our stay included a visit to Aysgarth Falls just a couple of minutes drive from the lodges, our lovely meal at Henderson's Restaurant on site and the breathtaking view of the Yorkshire Dales from our lodge.
Westholme Lodges will appeal to both families and couples looking for a relaxing getaway in Yorkshire.

The views from every aspect of the park were beautiful and the whole place had an "away from it all" feel.

Although we crammed a lot into our stay including a trip to Lightwater Valley on Saturday and Aysgarth Falls and The Forbidden Corner on Sunday, we still came home feeling relaxed and rested.
There are so many local attractions to explore that we would be keen to go for longer next time. The local villages, castles, waterfalls and caves are within easy reach of the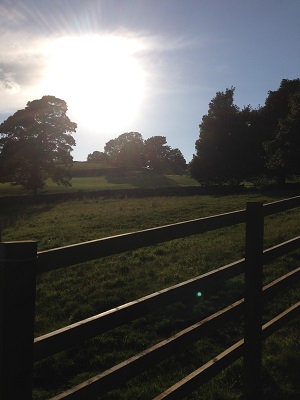 lodges and it would be shame not to see as much as you can of the local area.

In particular White Scar Cave and Bolton Castle are well worth a visit.
The lodges vary from real log lodges to timber clad cabins, many with amazing views. Choose a VIP lodge if you want a hot tub as an added touch of luxury. We loved the Oak VIP and the Laburnum Premier VIP lodges.
Read more about our visit to Westhome Lodges >>
Check Availability at Westholme Lodges >>
Posted: 1st March 2013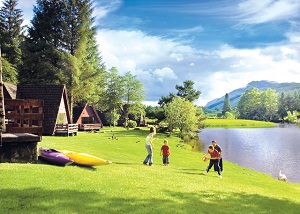 Lodges with hot tubs are not just for couples and romantic breaks. Families can enjoy hot tub holidays too, combining luxury lodge accommodation with an active holiday park experience.

We have chosen some of our favourite parks below which we think would be perfect for family holidays.

Some have indoor swimming pools and plenty of activities to keep the whole family entertained. And of course after all the action, you can return to the comfort of your lodge and enjoy a soak in the hot tub!
Bainland Country Park

Bainland Country Park is a lovely, peaceful place to stay, surrounded by woodland in the heart of Lancashire. It's great for both adults and children because there is so much to do - from golf and horse riding to WaterWalkerz where you actually get to walk on the water inside a big, floating ball!

We like Allington Lodge which sleeps six people and has its own decking area with private hot tub. Wragby Maze, just ten miles from the park, is good fun for the whole family - you can take a picnic and really make a day of it. Read More >
Brynteg

Brynteg, in the heart of Snowdonia, is the perfect place for a family holiday - peaceful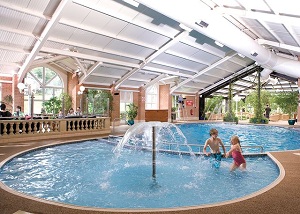 and relaxing, yet with a fabulous choice of activities to keep you busy! The indoor heated pool has inflatable canoes and snorkelling - and there's a poolside bistro where you can enjoy lunch and drinks.

Brynteg Prestige Lodge VIP 3 offers spacious accommodation for six and has its own private hot tub. Nearby Greenwood Forest Park in Gwynedd is a great family day out with treetop towers, jungle boat adventures and a family of stunning peacocks!
Read More >
Crowhurst Park Lodges

Crowhurst Park in Battle, East Sussex is an award-winning development of pine lodges in the stunning grounds of a 17th century country estate. There's a whole range of activities on offer - while mum and dad relax in the sauna and steam room, the kids can enjoy inflatable canoe fun and WaterWalkerz in the children's pool.

We highly recommend Garden Plus, a wonderful lodge set within a secluded Victorian garden. It sleeps four people and has its own private hot tub. You can enjoy a fun day out at Fort Fun Family Fun Park in Eastbourne with the Niagra Slide and a massive indoor soft play area. Read More >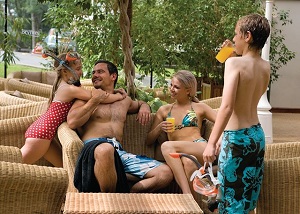 Devon Hills Holiday Village

Devon Hills is a lively park in a gorgeous setting near Paignton in Devon, just three miles away from Torbay. Active kids can try their hands at archery and disc golf as well as the many water sports on offer, and there's a lively activity programme for the under sevens too.

Superior Country Four VIP Platinum is a luxurious family lodge for four with an outdoor hot tub and decking area with patio furniture. For great days out, Devon is full of family attractions - Paignton Zoo, home to thousands of animals and plants, is less than a mile away. Read More >
Finlake

Finlake Lodges, in Newton Abbot on the edge of Dartmoor, is the perfect place for an activity-filled family getaway. There's a fully equipped gym, tennis courts and leisure club for mum and dad, while three to seven year olds can be kept busy with Go Juniors and older kids can splash to their hearts' content in the indoor pool.

We love Woodland Deluxe Lodge Six - it's a two-storey Scandinavian style lodge with a balcony and private hot tub, perfect holiday accommodation for a family of six. The lodges are a couple of miles from Canonteign Falls, England's highest waterfall. With a children's assault course, forest garden and nature trail, it's a great family day out. Read More >


Great Glen Water Park

Families will love the many activities available at Great Glen Water Park, which nestles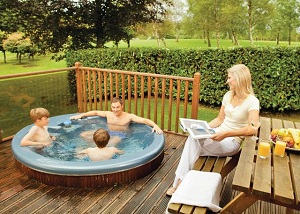 on the shores of Loch Oich and Loch Lochy in Inverness-shire. There's something for all ages - from fencing and archery, canoeing and tennis to fishing and white water rafting!

Struan Cottage is a luxury detached cottage for up to ten people; it has its own garden with spectacular views across to the mountains and a private outdoor hot tub. If you're fascinated by Loch Ness, you could visit The Official Loch Ness Exhibition Centre in Drumnadrochit, a world famous exhibition that takes you through the story of 'Nessie' with animations, lasers and special effects. Read More >


Gurnard Pines

Families will revel in the peace and quiet of the countryside near Cowes in the Isle of Wight, whilst still being able to enjoy the many activities that Gurnard Pines has to offer. There are two swimming pools - one indoor and one outdoor - as well as play areas, junior activity programmes plus tennis and archery for older kids.

Solent Villa 2 Plus is a spacious two-bedroomed bungalow for a family of four, with French doors that lead onto a verandah with an outdoor hot tub. For a family day out, you could head to Amazon World, just eight miles away in Newchurch - it has over 200 species of birds and animals, including armadillos and crocs! Read More >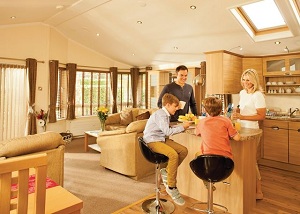 Hengar Manor Country Park

We love Hengar Manor - it's set deep within Bodmin's gorgeous countryside and is close to some of North Cornwall's finest golden beaches. There are 35 acres to explore as well as a host of activities for the whole family, including an indoor leisure centre and pool, fishing, tennis and crazy golf.

For a larger family party, Hengar Park Lodge Plus sleeps up to ten people and has its own six-person outdoor hot tub. No holiday in North Cornwall would be complete without a visit to the Eden Project in St Austell, just 15 miles away. Read More >
Hunters Quay

This is a fabulous location - just a couple of miles from Dunoon in Argyll and close to the Scottish Lochs, it's surrounded by superb walks and wildlife. There are two indoor heated pools and a variety of activities for children of all ages - including badminton, disc golf and WaterWalkerz.

We can recommend Rowan Premier 4, a spacious family lodge for four people with a handy barbecue area and private outdoor hot tub. For a day out the whole family will enjoy, you could head to Argyll Forest Park in Ardgartan for forest walks, horse riding, fishing and maybe even a picnic. Read More >
Oakdene Forest

We love the sheer variety of family activities available at Oakdene Forest in Ringwood,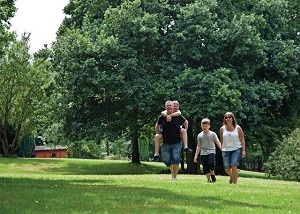 Hampshire. Set within the rugged surroundings of the New Forest, it has an indoor pool with a 34 metre flume, an outdoor heated pool with water jets, plus crazy golf, football and fencing.

We can recommend Rhododendron Lodge 3 for families - it sleeps up to six people and has a verandah with hot tub. Adventure Wonderland in Bournemouth is a great family day out with Alice in Wonderland games and nail-biting adventure rides. Read More >
Piperdam Lodges

Piperdam, near Dundee, is a lively destination for a family holiday; it's in a beautiful setting surrounded by Angus countryside and close to a 40 acre loch. There is a large indoor heated pool and leisure centre, and lots of activities for all ages, including archery, golf and quad biking.

Osprey Lodge Plus is a superb family holiday home - it sleeps six people and has its own private outdoor hot tub. Visitors of all ages will enjoy a visit to the Sensation Science Centre in Dundee where they can enjoy the hands-on exhibits that demonstrate the wonders of science. Read More >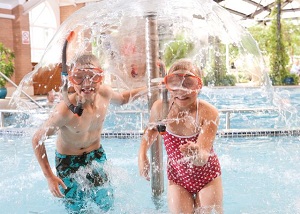 Talacre Beach

Lively Talacre Beach in Flintshire, between Chester and Snowdonia, is set beside miles of golden beaches and is well placed for exploring the numerous attractions in the area. It has a tropical indoor pool where youngsters can try out WaterWalkerz, snorkelling and Sea Scooters.

Talacre Birchwood Lodge sleeps up to six people and is luxurious and contemporary with its own decking area and outdoor hot tub. There are plenty of family friendly places to visit in the area - The Palace Fun Centre in Rhyl, around seven miles away, has ten pin bowling and the spine tingling Terror Towers! Read More >
Posted: 9th October 2012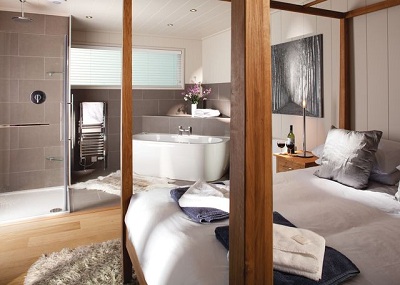 Lodges are the perfect getaway for romantic holidays and special occasions. If you want to surprise a loved one or even just treat yourself then you could book a lodge which offers a Pamper Pack as an optional extra.

These packs can make your holiday extra special and memorable. Prices vary from lodge to lodge but prices start from around £95. The contents of the packs also vary but some special touches you might expect include fluffy bathrobes, champagne, chocolates or flowers.
Proposing to your girlfriend or celebrating an anniversary? Look no further for that extra special holiday. Here are some suggestions for lodges with pamper packs available.
In the North of England we recommend...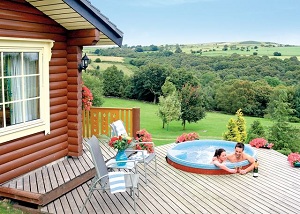 Faweather Grange Lodges -Yorkshire

These gorgeous lodges sit within a 70 acre private estate and command the most breathtaking views. The hot tubs are an extra special touch whilst the lodges themselves are fabulous. The Serenity lodges are recommended for honeymoons and have uncompromised standards. You can also book in lodge beauty treatments at these lodges for the ultimate relaxation. Read More

Pamper Pack Options at Faweather Grange
To make your romantic break extra special Champagne, fresh flowers, chocolates and use of fluffy bath robes are available. Pure indulgence pamper pack Bollinger champagne, hand-tied flowers, chocolates, Molton Brown Gift pack and the use of fluffy bath towels are available.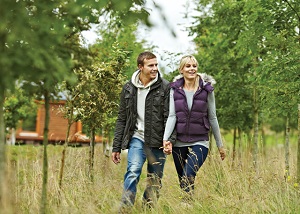 Meadow's End Lodges - Lakes

These lodges are in a stunning location, ideal for exploring the Lake District. Outdoor pursuits and leisurely strolls can be enjoyed. The lodges are modern and stylish, blending seamlessly into the idyllic surroundings. The deluxe Teesdale Lodge offers a high quality holiday base. The Shaun Lodge which sleeps 2 is beautiful and perfect for romantic breaks. There is direct access from the master bedroom to secluded private decking outside. Read More
Pamper Pack Options at Meadow's End Lodges
Fresh flowers, champagne and chocolates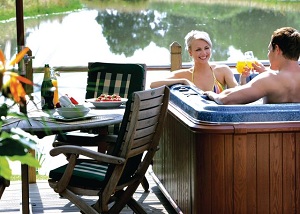 Oakwood Lodges - Yorkshire

A small collection of stylish lodges with an intimate and cosy feel. The lakeside setting is stunning and you can make the most of the lake views from your own private hot tub. The superb lodges also make the most of the lake views with full length windows. The Acorn Lodge is ideal for romantic breaks with open plan living and even a free standing bath in the bedroom. The decor is sumptuous and welcoming with a WOW factor. Read More
Pamper Pack Options at Oakwood Lodges
Pamper Pack for couples – Champagne, fresh flowers, chocolates and use of fluffy bathrobes (must be ordered and paid for prior to arrival).
Ribblesdale Lodges - Yorkshire Dales
If you want something extra special then look no further then this cluster of luxury lodges in the grounds of an impressive estate - and right in the midst of the Ribble Valley. The area has been declared one of Outstanding Natural Beauty so you can be assured of a stunning location. The lodges themselves will impress too with a luxury, contemporary feel. The Morland Lodge is a great choice for a special occasion with a two person deluge shower and a bath at the foot of the bed. Read More
Pamper Pack Options at Ribblesdale Lodges
Pamper pack for couples (must be ordered prior to arrival)
Champagne, Chocolates and Flowers.
Champagne and Strawberries (seasonal)
Bouquet of flowers
Balloons hamper, celebratory cake rose petals, early/late check in also available.
Posted: 6th October 2012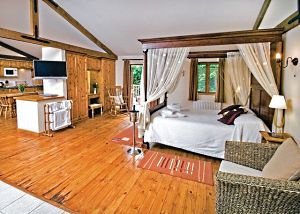 Celebrate the New Year in style with a lodge holiday in the UK. UK lodge breaks have become a really popular choice for couples, families and groups of friends looking to get away to celebrate New Year's Eve with a difference.

No more making last minute plans, lame New Year parties and busy restaurants. Lodge holidays are the stylish way to bring in the New Year. Think beautiful surroundings, drinks in the hot tub and fun with friends.
There are lodges throughout the UK offering excellent deals on New Year breaks but the best bargains seem to be in the North of England. Most New Year short breaks for this year start on 30th December for 4 nights. There are also plenty of 7 night holidays available over the festive period.
Some of our favourite parks in the North are Keldy Forest and Woodland Lakes Lodges in Vale of York and Heron Lakes Lodges in East Yorkshire. All of the stunning lodges have fantastic surroundings and private hot tubs.
Availability for New Year's Eve based on 2 adults:-
So why not have a browse and find your perfect New Year getaway?
Posted: 24th September 2012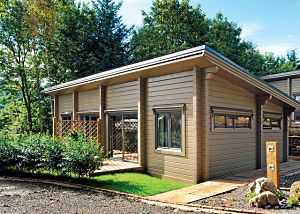 Westholme Lodges in the Yorkshire Dales are our "Lodges of the Week". With a rural location there are plenty of opportunities for relaxing and getting away from the stresses of daily life. A great base for exploring the Yorkshire Dales, these lodges will delight anyone looking for a luxury lodge break.

The VIP lodges come with private outdoor hot tubs and we especially love the Westholme Laburnum Premier VIP which sleeps 6 and has the "Wow" factor. On site you will find Henderson's Bar and restaurant with Wi-Fi access where you can enjoy a bite to eat or a relaxing drink in a laid back environment.

We received this review from Craig Marsh who enjoyed a stay at Westholme Lodges:-

"Wow, What a fantastic holiday. The lodges are like home from home and offer a very high standard. The staff are wonderful and will do their best to help you in any way and the on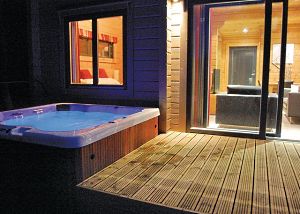 site restaurant is very good and quite reasonably priced. The grounds are very well kept and the hot tub was an added bonus after a long walk in the dales.
It is a must to visit the falls and the Wensleydale Creamery. There are not many shops around so do stock up prior to your visit. There are some great local pubs to visit that also do great food but might be best to book in advance. All in all, its a fantastic place to visit. Looking forward to our next visit."
"Like" us on Facebook to keep in touch and be first to hear about the best offers.
Posted: 17th September 2012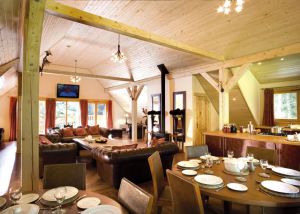 If you're looking to get away with a large family or group of couples or friends it can be hard to find accommodation to suit and often people settle for a group of cottages or lodges close together. But fear not we have found the solution for everyone to stay under the one roof.
The Vegas Lodges at Piperdam, close to the Sidlaw Hills by Dundee are ideal as they sleep up to 12 people, and provide style as well as space. There are four double bedrooms and two twin rooms.
Things which make this 4 star lodge stand out from the rest include an outdoor hot tub, private sauna, Roulette and Card Games and even a snooker table. For those that like adventure and outdoor pursuits golfing and off road quad biking are available locally.
The Vegas Executive Lodge has been designed with comfort and luxury in mind with mod cons like a fully equipped kitchen and flatscreenTV/DVD. Suitable year round the lodge is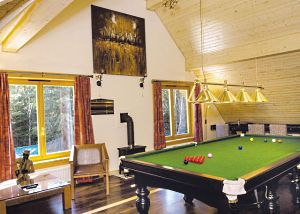 centrally heated too.
Piperdam Golf and Leisure Resort in Angus has recently won a Best in Scotland Award (November 2010) - a tribute to the exceptional quality and excellent customer service it has become known for.
So if you're looking for an exciting and luxury break with friends and family why not take a gamble on the Vegas Lodges at this super stylish Dundee Golf and Leisure Resort?